Erica and Stacy met at a fitness event in New York City and soon realized they shared two very important passions: free fitness classes and running. It wasn't long before their mutual inability to take attractive race photos drew them together to create Seriously Ugly Race Pics, where being a photogenic athlete isn't frowned upon—it's just not as entertaining. Race hard, not pretty. 
________
About Stacy. A veteran runner turned newbie racer, I quickly learned my lesson after sifting through the evidence of three half marathons: race photos are not my thing.
Don't get me wrong; I have plenty of talents. Like writing. I've been writing and editing since the third grade, when my very first poem was published on green velvet shoes. And like running, which I've done almost every day of my life—sun, rain or snow, from New York City to Ann Arbor—since I was a sophomore in college. But when it comes to taking attractive race photos—you know, the ones you actually want to show your friends—well, let's just say I fall short of a blue ribbon.
I'm a running-obsessed 20-something writer, editor and blogger behind Will Run For Glitter, and I have many ambitions in life. Taking glamorous race photos just doesn't happen to be one of them, and I'm embracing it to the fullest. 
________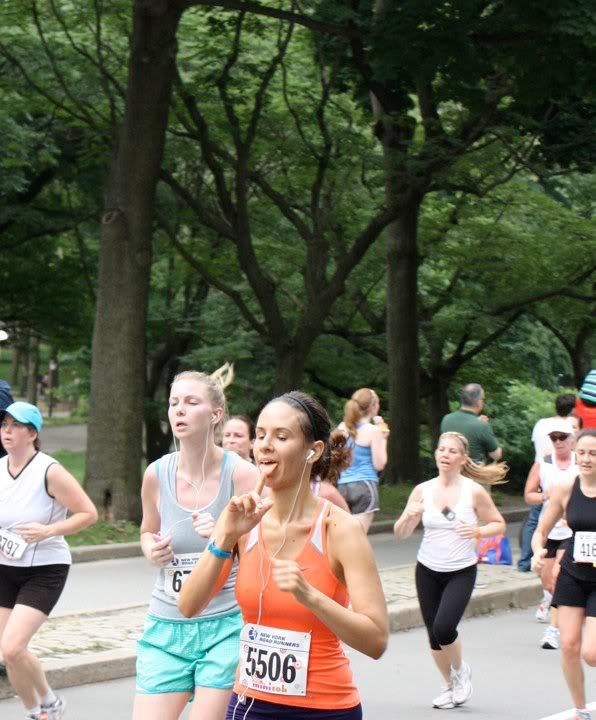 About Erica. Another veteran runner turned racer 3 years ago, I like to think race photos are my thing. But I'd be wrong.
With approximately 30 races under my belt, I have only 4 or 5 attractive race pics to show for them. So rather than try to look pretty for race pictures, I now harness the ugly and aim to take the worst race pics imaginable. It's a lot more fun! Unfortunately, no matter how many times I snot rocket for a photographer, they never seem to publish the pic.
Lucky for me, ugly race pics are just a small part of my world. When I'm not running, you can find me practicing yoga, photography, cooking, hiking, blogging, or engraving race bling & other jewelry for my line, Erica Sara Designs.
I'm a 30-something NYC woman, digging my life to the fullest and trying to spread the happy as best as I can.